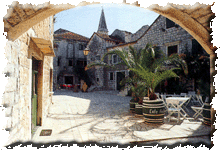 The stone blocks from the City Walls were incorporated into the foundations of the bell tower indicates that this was the very place where the main entrance of the town was. The inscription reads:
DEDURUNT HVIVIS PRIMORDIA MOLIS DE MOENIBUS URBIS RELIQUIAE ET DEDERAT GRESSUM IN URBEM JANUA...
The Roman town grew up around the perimeter of the Greek one. Thus, there are two preserved Roman mosaics under the pavement in the present-day Sridnja ulica (Middle Street), and there was a Roman bath under the church of Sv. Roko.
The medieval settlement grew up north of the Greek one and by the coast on the east. But there was nonetheless no change in the previously mentioned political and economic stagnation of the town in the 13th century. The architecture of the town, however, was not affected. Although the majority of the buildings were built in the 16th and 17th centuries, i.e. the Renaissance and baroque style are dominant in the city centre, there are many buildings with Romanesque and Gothic traces.